The contents of these web pages are prepared and directed to both
the continuing education and updating the activities of veterinarians.
CLWG News
Prof. George Lubas, chairman of the CLWG, will held the day June 22nd starting from 1:30 pm a web seminar on Zoom platform on the SCIVAC-EV web site whose title is "From the clinical case to the diagnosis of leishmaniasis in the dog". This on-line event is part of the continuing education plan of the Ecuphar firm that support all the scientific activities of the Canine Leishmaniasis Working Group.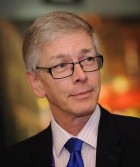 Michael Day, Professor Emeritus of Veterinary Pathology who almost completely carried out his scientific activities at the University of Bristol, UK, passed away on day 10th of May 2020.
In the CLWG meeting of Rome held on February 21st, 2020 the application of Dr. Silvia Lucia Benali as effective member has been approved. Previously, Dr. Benali was acting as honorary member. The participation of Dr. Benali as effective member will support the knowledges on the renal histopathology which are a key point in the disease induced by leishmania (please refer to the curriculum vitae)
In order to streamline the study above different features of canine leishmaniasis the following three subgroups have been established:
Management and implementation of studies and protocols on canine leishmaniasis: Dr. Michele Maroli (coordinator), Dr. Nunzio D'Anna, Dr. Luigi Gradoni, Dr. Alessandra Fondati, Prof. George Lubas, Prof. Saverio Paltrinieri, Dr. Xavier Roura, Dr. Andrea Zatelli, Dr. Eric Zini
Nephrology and Leishmaniasis: Dr. Andrea Zatelli, Dr. Xavier Roura, Prof. Michael Day, Prof. Oscar Cordellas, Dr. Silvia Benali.
CLWG management and promotion: Prof. George Lubas (coordinator), Dr. Paola Bianchi.